About Us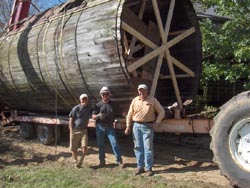 Since 1982 Olde New England Salvage Co.--also known as--Lebanon Country Collection, has dismantled over 135 houses, barns and outbuildings in order to harvest complete re-buildable structures or for the very important component parts to restore or create 18th and 19th century environments. We have matched up beams, flooring and granite (stone) items to homeowners, architects, designers and landscapers working one-on-one for that personal requirement.
We are located at
185 Fitchville Road
PO Box 67
Bozrah, CT 06334
Contact Owner, Glenn Pianka at 860-885-9589 (cell) or email stonebeam@sbcglobal.net.
Shop hours by chance or appointment.